Beginnings
As World War II ended and America continued its recovery from the previous decade of depression, golf course architects in the U.S. sensed a real opportunity for a golf boom as people sought more recreational opportunities. Having spent most of the war years short of work and wondering if course architecture had become a lost art, these early visionaries wanted to be in position to respond to the coming demands by creating a professional organization of golf architects. The new group aspired to be the influential, collective voice in the industry, similar in makeup to the long-standing American Society of Landscape Architects.
Spearheaded by Robert Bruce Harris and Robert Trent Jones, the first meeting of this new association, dubbed the "American Society of Golf Course Architects" (by William Langford), was held with several architects from around the nation on Feb. 13, 1947, at the Hotel New Yorker.
Purpose
The missions of the ASGCA are much the same today as when the original members outlined the Articles of Incorporation:
Foster the game of golf, its growth and advancement.
Foster professionalism of ASGCA members through education, promotion and fellowship of the world's leading golf course architects.
Support design excellence by creating golf courses that are technically, strategically and aesthetically excellent while meeting the economic, environmental and other needs of golf course owners, developers and communities.
Expand the opportunities of ASGCA members to better serve their clients and the game of golf.
Founding Fathers
The 14 Charter Members who originally made up ASGCA were a diversified group of professionals, including five landscape architects/agronomists, four contractors, three golf professionals, and two businessmen.
From left to right: William P. Bell, Robert White, W.B. Langford, Donald Ross, Robert Bruce Harris, Stanley Thompson, William F. Gordon, Robert Trent Jones, Sr., William Diddel, and J.B. McGovern. Original ASGCA founders not pictured: Perry Maxwell, Jack Daray, Wayne Stiles and Robert "Red" Lawrence.
The Ross Tartan
The red plaid jackets ASGCA members wear are made from a material known as the Ross tartan. This tartan was adopted by ASGCA in 1973 as a tribute to the group's honorary first president, golf course architect Donald Ross. Scottish clans are typically identified by one or more distinctive tartan patterns; Ross hailed from Dornoch, Scotland. The distinctive tartan is known throughout the golf industry as belonging only to ASGCA architects.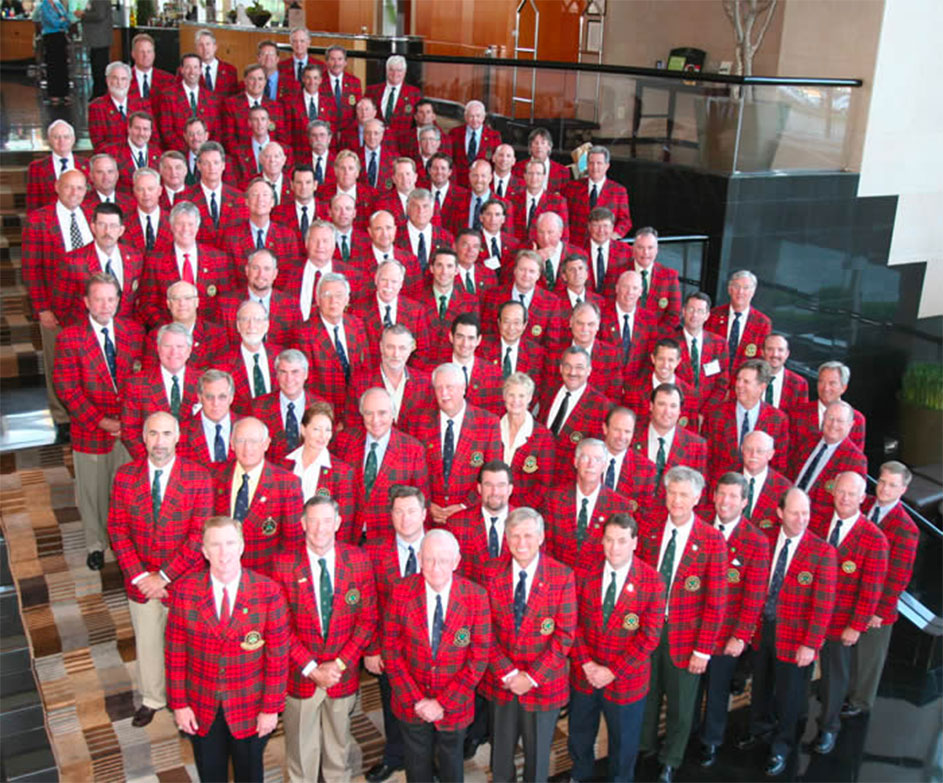 Past Presidents
Implored by his colleagues to be the first president, legendary architect, Donald Ross, declined the invitation due to the feared strain it might put on his deteriorating health. Instead, Ross was elected Honorary President by acclamation, and Robert Bruce Harris assumed the role of first acting president. Together, they head a list of past presidents that make up a virtual Who's Who of Golf Course Architecture.
1947-1972
1947 Robert Bruce Harris & Donald Ross
1948-1949 Robert Bruce Harris
1949-1950 Stanley Thompson
1950-1951 Robert Trent Jones
1951-1952 William B. Langford
1952-1953 William P. Bell
1953-1954 William F. Gordon
1954-1955 William H. Diddel
1955-1956 James G. Harrison
1956-1957 Robert F. Lawrence
1957-1958 William F. Bell
1958-1959 Howard Watson
1959-1960 David W. Gordon
1960-1961 J. Press Maxwell
1961-1962 C.E. Robinson
1962-1963 Ralph Plummer
1963-1964 William B. Langford
1964-1965 Robert F. Lawrence
1965-1966 William Diddel
1966-1967 Floyd Farley
1967-1968 William F. Gordon
1968-1969 Fred Garbin
1969-1970 James G. Harrison
1970-1971 E. Lawrence Packard
1971-1972 C.E. Robinson
Current Leadership
Through the tremendous efforts of our committee volunteers, ASGCA functions as a successful non-profit organization dedicated to fostering professionalism, supporting golf design excellence, helping grow the game and expanding opportunities to help ASGCA members better serve their clients.
Frequently Asked Questions
How do I become a member of ASGCA?
In order to be eligible to join the ASGCA as an Associate member, applicants must be a citizen or legal resident of the United States, Canada or Mexico, and have a minimum of eight years experience in golf course architecture. An applicant must also prove his/her practical qualifications, which include designing and seeing through to opening at least five 18-hole equivalents. Representative courses may be new or remodeled; a description of the scope of work involved with remodels will be requested by the Membership Committee.
In addition to these criteria, applicants must adhere to the ASGCA Code of Ethics and be prepared for the peer-review of their representative courses. The application process is lengthy, complex and can take up to two years to complete. Only golf course architects may be ASGCA members; ASGCA has no "supplier" or "student" category of membership. If you'd like to receive an application, contact Aileen Smith at aileen@asgca.org.
What kind of training do I need to become a golf course architect?
Golf course architects come from varying backgrounds, with training in landscape architecture, civil engineering, environmental studies, agronomy, golf course construction and professional golf, to name a few. The most common degree among golf course architects is landscape architecture. In addition to formal education, time spent "on the job" learning about golf course maintenance and golf course construction is important to learn the technical aspects of the profession. Today's golf course architect will need to acquire a variety of knowledge, including, but not limited to, the following:
Landscape Architecture / Land Planning
Environmental Knowledge
Civil Engineering
Agronomy & Turf Management
Heavy Construction
Plans, Specifications & Graphic Production
Cost Estimating
Public Speaking
Those interested in the field should become associated with a member of the American Society of Golf Course Architects to learn more about the various demands of the profession. For a list of members near you, visit our Find an Architect section.
Which colleges offer a degree in golf course architecture?
No colleges in the United States currently offer a degree program in golf course architecture. Several landscape architecture and/or turf programs do offer some focused study in the basics of golf design, however. (For a list of accredited landscape architecture programs in the United States, visit the
American Society of Landscape Architects
)
The College of Art in Edinburgh, Scotland offers a graduate-level certificate in golf course architecture. For more information about that program, visit the European Institute of Golf Course Architects website.
How do I find work as a golf course architect?
Golf course architecture is an extremely competitive field. Many golf course architects get their starts working as interns with established golf course architecture practices. ASGCA will occasionally publish contact information in the ASGCA Newsletter for those students looking either for internships or entry-level positions. Contact
Aileen Smith
at ASGCA for more information.
How do I get in touch with a particular golf course architect?
In the
Find an Architect
section of this website, you may access contact information for all ASGCA members, including mailing address, phone number, e-mail address and website by typing in the name of the member. You may also search on location or area of expertise.
If you need answers beyond what is listed on the ASGCA website, please visit our contact form or call ASGCA at 262-786-5960.
Why do ASGCA members wear the red plaid jackets?
The red plaid jackets are made from a material known as the Ross tartan. This tartan was adopted by ASGCA in 1973 as a tribute to the group's honorary first president, golf course architect Donald Ross. Scottish clans are typically identified by one or more distinctive tartan patterns; Ross hailed from Dornoch, Scotland.
Where do I find information about the golf course architect who designed my club?
ASGCA has several resources available to help answer questions about the golf course architect who designed your club's layout. Questions may be addressed to
Aileen Smith
and will be answered as soon as possible.